The Violet Love Project
---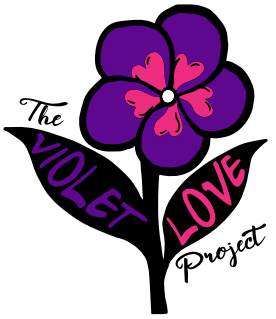 "If I could tell the world just one thing it's we're all okay." Jewel's soothing voice uttering those simple words in "Hands" leaves me wanting to do good for others.
Jake and I have found success in doing something we love. We want to give back to a community that has been so kind to us. The Violet Love Project was created. We will decorate rooms for deserving individuals that have had to overcome hardship. Stories of deployments and rising above addiction would especially resonate with us. In my own life, "heartache came to visit me, but I knew it wasn't ever after."
Violets symbolize faithfulness and love and the color represents thoughtfulness and empathy. Love is an intense feeling of deep affection. We wish to bring joy to the recipients, thus the name The Violet Love Project.
We hope creating our happy spaces might have as positive an impact as these beautiful lyrics have had upon me. We will try to spread sunshine "because light does the darkness most fear."
-Michaela
Michaela and Jacob are very thankful for all their clients and the growth of their business. They believe it is important to give.
To nominate someone for a room makeover please e-mail home@soldbymichaela.com to receive the entry form.
Applications will be reviewed on a case-by-case basis. All submissions are encouraged. Sold By Michaela prefers to have the recipient surprised by the renovation, but that will not be the only deciding factor. Budgets will not exceed $1500. Michaela and Jacob Lamb will be the final decision-makers for all projects.
Watch the video for more details: